When this farm table was found, it was covered in no fewer than 10 coats of paint.
I suspect this piece was made in the 1940's and through the years, it must have been owned, owned and re-owned because it had so many layers of paint on it that it was almost soft.
Though its construction is solid oak, it was very poorly assembled initially – probably from a kit. Full reconstruction and refinishing was the only way this table would please again.
The first thing that needed to be done was to remove all the paint. This process took hours and required multiple techniques and approaches. We first used a heat gun and scraper to remove the upper-most layers of paint. Once we broke through those layers, a chemical stripper was used to remove the final layers.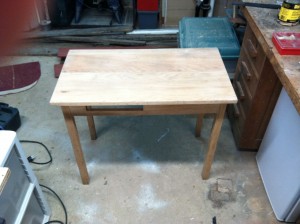 The table was then completely disassembled and sanded to bare wood. At this point it was necessary to modify the assembly of the structure. The legs were initially attached to the apron using some metal angle braces and wing nuts. This would definitely not suffice if this table were to actually be used for anything and not just on display. A plate joiner was used to cut slots in both the legs and the apron and biscuits inserted. Mortise and Tenon joinery is much preferred to the biscuit method and if we were to build this table from scratch, there would have been an opportunity to cut tenons in the apron and mortises in the legs but because we were reconstructing this table, the plate joiner was an ideal choice. The legs and apron were glued and clamped creating an extremely strong table base.
Once assembly was complete, the table was stained using Minwax brand "Dark Walnut". We use this oil stain all the
time because it has a wonderful dark brown almost black color and it seems to turn out really well on almost all types of wood. Once the stain dried completely, the table was sprayed with sanding sealer, sanded with 320 grit sand paper and finally, sprayed with a catalyzed lacquer for extreme moisture resistance and long lasting durability.